You are here
Basic Sciences Department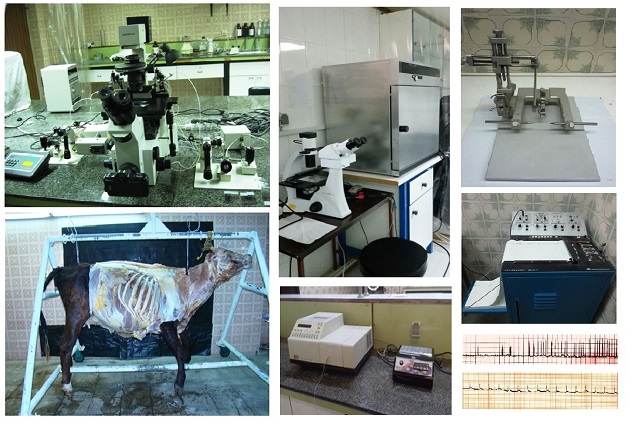 The Department of Basic Sciences was established in 1975 under the Faculty of Veterinary Medicine of the Urmia University. It is the one of seven Departments established under this faculty.
Educational programs along with academic research provide sound knowledge of Anatomy, Embryology, Histology, Physiology, Biochemistry, Pharmacology and Toxicology for the students.
At this Department, students will experience mostly-research oriented environment to be prepared for future scientific endeavors.
This department is organized into five divisions:
Anatomy and Embryology
Histology
Biochemistry
Physiology
Pharmacology and Toxicology
There are 13 distinguished academic staffs in this Department.
In the Division of Anatomy and Embryology, research focus areas include comparative anatomy and developmental anatomy of domestic animals. Moreover, various aspects of reproductive biology and infertility are under investigation. In the Embryology Lab., the scholars research in the field of in vitro maturation of oocyte, early embryonic development, embryo vitrification and spermatology of domestic and laboratory animals. Additionally, intra-cytoplasmic sperm injection, embryo transfer (in laboratory and domestic animals), experimentally induced fertility disorders, specific genes expression and immunohistochemistry in ovarian and testicular tissues and embryos are investigated. Post-graduate program offered by this Division is included in PhD of Comparative Anatomy and Embryology. Dr. Farhad Soltanalinejad, Dr. Gholam-Reza Najafi and Dr. Abbas Ahmadi are distinguished academic staffs in this Division.
Biochemistry is a highly collaborative division with other groups of the faculty in which diverse biochemical and molecular assessments such as chemical and enzymatic assays and gene expression measurements are performed. The main focus of the biochemistry laboratory is recombinant production, characterization and engineering of pharmaceutical enzyme in particular uricase by the help of DNA recombinant technology. The division offers master degree in Clinical Biochemistry as well. Dr. Mehdi Imani is the academic staff of biochemistry division.
The research projects in the Division of Histology mostly involved in reproductive and structural biology as well as tissue engineering. In this Division, in vivo and in vitro effects of natural and/or artificial compounds are examined in reproductive injury in animal models. The Histology Division offers two different post-graduate programs including MSc of Histology and PhD of Comparative Histology. This Division is well-equipped with research facilities and laboratories including Immunohistochemical Analysis Lab., Cell Culture Lab., Stereological Analysis Lab. and Histology and Histochemistry Lab. Prof. Shapour Hassanzadeh, Prof. Rasoul Shahrouz, Dr. Ali Shalizar-Jalali and Dr. Mazdak Razi are academic staffs of this division.
In Division of Physiology, areas including neurosciences, cardiovascular and gastrointestinal systems are investigated. Sound methods are used to characterize the function of organs in health and disease. This division is also widely recognized for central histaminergic neurons involvement in biological process and pain modulating mechanisms. Epilepsy, diabetes, learning and memory are other research programs conducting in this Division. In 2016, Cognitive Neuroscience Laboratory was established. Within these laboratories, PhD and DVM students do research using modern methodologies under the guidance of three academic staffs: Prof. Esmaeal Tamaddonfard, Dr. Saeed Nafisi and Dr. Amir Erfanparast.
The Division of Pharmacology and Toxicology provides excellent basic research in molecular pharmacology/toxicology, carcinogenesis, food toxicology and in vitro and in vivo assays for Pharmacological and Toxicological evaluations. The Division is fully equipped to carry out experiments and provide practical knowledge for students in pharmacological and toxicological aspects. Laboratories are having all essential equipment required for teaching and research purposes. This Division has been established to impart training of veterinary undergraduate and postgraduate students in this field of science. The undergraduate teaching courses are Pharmacology I, II and Toxicology and the postgraduate teaching courses are Food Toxicology and Environmental Toxicology. This Division provides knowledge for students in General and Systemic Pharmacology and General Toxicology. Presently, the division has two academic staffs: Dr. Elham Zadeh-Hashem and Dr. Arash Alizadeh.


basicsciences@urmia.ac.ir
http://en.urmia.ac.ir/Vetarinary-Medicine-Faculty/Basic-Sciences-department