Internal diseases and clinical pathology Department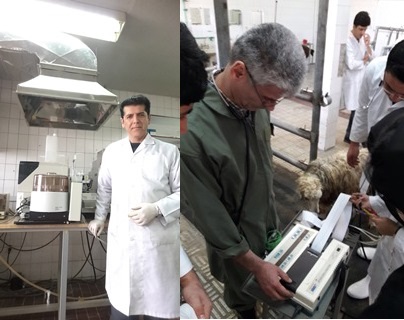 Internal Medicine and Clinical Pathology
Internal Medicine and Clinical Pathology
Internal Medicine and Clinical Pathology
Department Overview
The Department of Internal Medicine and Clinical Pathology, in conjunction with the Veterinary MedicalTeaching Hospitalas one of the largest veterinary hospitals in the country, offers and presents undergraduate and post-graduate programs, scientific research, and large,smalland exotic animal clinical services.
GraduatePrograms:
Doctor of Veterinary sciences (DVSc) in Large Animal Internal Medicine.
Doctor of Veterinary Medicine (D.V.M).
Master of Science (M.S.) in Clinical Biochemistry.
Educational Programs Goals:
DVSc Program in Large Animal Internal Medicine: The DVSc Program in Large Animal Internal Medicine aims for providing the essential discipline-specific training for appropriate postgraduate who intend to improve their expertise in Large Animal Internal Medicine. The graduate students of this program are supposed to provide services in universities, educational sites, and research centers.
DVM program:  The purpose of this course is to train skilled veterinarians in various fields of veterinary profession. Some possible themes may include the provision of health management of herd and livestock breeding, poultry industry, aquaculture centers and clinics, diagnosis and treatment of large and small animal diseases, and technical skills needed in slaughterhouses, research centers, companies providing animal products as well asveterinary diagnostic laboratories and factories that involve in manufacturing, distribution, export and import of veterinary drugs, and biological products.
MSc Program in Clinical Biochemistry and Hematology: This program intends to train qualified candidates and enhance their skillfulness in Biochemistry and Hematology using advanced laboratory diagnostic methods.
 This department has four divisions with eleven distinguished academic staffs:
Large Animal Internal Medicine
Small Animal Internal Medicine
Clinical Pathology
Animal Health and Nutrition
 Divisions:
Large Animal Internal Medicine: The largest division of the group encompasses five faculties each of which offer related courses to large animal internal medicine to DVM and DVSc students. In this respect, the major research fields include nutritional deficiencies and metabolic disease, organic and inorganic poisoning, gastrointestinal disorders, cardiovascular abnormalities, nervous system alterations and respiratory tract disease in ruminants, equids and experimental animal models. This Divisionhas initiated the DVSc Program in Large Animal Internal Medicine since 2004.Dr. Aligoli Ramin, Dr. Masoud Maham, Dr. Bahram Dalirnagade, Dr. Ghader Jalilzadeh-Amin and Vaheed Najarnezhad are distinguished academic staffs in this Division.
This division proffered Large Animal Clinical services at the Urmia Veterinary Medical Teaching Hospital.We offer to our clients the highest level of care for their ruminant animals including cattle, sheep, goat, camel and equine. Our hospital led by board-certified veterinary specialists, the Large Animal Clinic sees thousands of patients a year, and can provide all your veterinary needs, either at the clinic or at your ranch, farm or production facility. Our faculty veterinarians are some of the most skilled and experienced clinicians available.
The service offers a variety of advanced diagnostic and therapeutic procedures including electrocardiography, electromyography, ophthalmoscopy, video-endoscopy, rhinoscopy, bronchoscopy, gastroduodenoscopy, proctoscopy, vaginoscopy, cystoscopy, feeding tube placement and diagnostic biopsies.Many specialty services at farm or production facility available through regularly scheduled appointments.
 Animal Health and Nutrition Devision
 The Animal Health and Nutrition Division provide the educational programs in the field of Veterinary Nutrition.The general goals of the present programs are: educational programs on the principles of nutritional management of semi-industrial and industrial herds, identifying, monitoring and control of the risk factors for the development of metabolic diseases and nutritional disorders, management and control of production diseases and disorders Related to nutrition.The services of this division include educating, extension and free consulting in the Veterinary Medical Teaching Hospital and also in the private sector; the center provides visiting, inspections, and diet formulation by a nutritionist consultant at the farm. Dr. Ehsan Anassori is a member of the faculty in this section.
Clinical Pathology Department
The clinical pathology department designed to give advanced training in veterinary clinical pathology and laboratory medicine to veterinary student and MS of clinical chemistry. We have two objectives for our training program. The first objective is to train DVM student to be outstanding clinicians who are well-versed in all aspects of clinical pathology (hematopathology, cytopathology, clinical chemistry, laboratory management, and applied clinical pathology research). The second objective is to inspire and encourage trainees to become academic researchers who will contribute to the advancement and future of veterinary clinical pathology. The Clinical Pathology Laboratories include the clinical Biochemistry, cytology and hematology laboratories and Clinical Services Lab that available to all veterinarians, is located within Veterinary Teaching Hospital. These laboratories provide routine blood analysis and other diagnostic service and professional laboratory expertise to the Veterinary Teaching Hospital, departments and research laboratories within the college, and for our referring veterinarian clientele. Samples from multiple species are analyzed daily using automated equipments. We have a variety of tests to offer like complete blood cell count, chemistry analysis, urinalysis, coagulation profiles, blood gas analysis, crossmatch, endocrine testing and cytologies. We are able to analyze samples from multiple species, including domestic animals (canine, feline, equine, ruminants, etc.), zoo animals, avian and reptiles, and wildlife. In addition to diagnostic services and specimen analysis, the clinical laboratories provide valuable case material for teaching veterinary medical students and preparing DVM and MS students for residency in veterinary pathology, clinical pathology, internal medicine, surgery, etc.



http://en.urmia.ac.ir/Vetarinary-Medicine-Faculty/Internal-diseases-and-clinical-pathology-department