Libraries
Urmia University is proud to annouce that it hosts researchers, faculty members, and students form all faculties and departments in its 11 libraries with a physical area of 5000 square meters.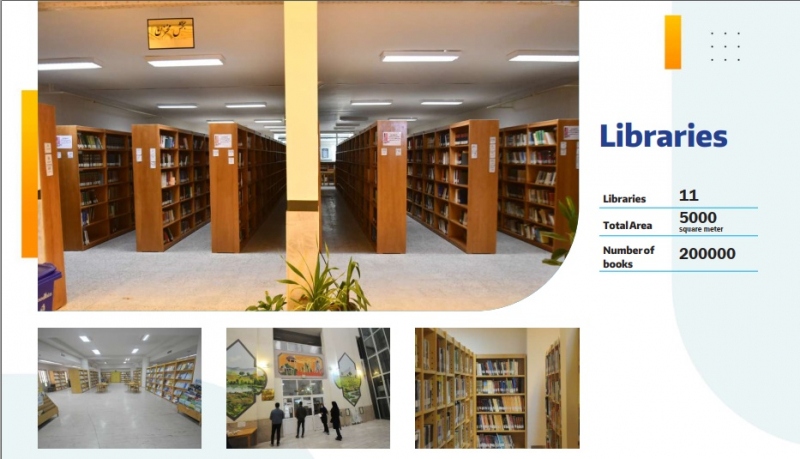 The Central Library
The central library of Urmia University has been operating for more than 30 years under the supervision of the Vice Chancellor for Research and Technology of Urmia University. It has various sections including technical services, information center, property counter, circulation counter, theses section, reference section, Persian and English periodicals and publications section and study halls and includes rich and diverse collections and resources in various areas of science, technology, and literature.
The library is connected to Shiraz Regional Information Center for Science and Technology, Knowledge Reference Information Base (Civilica) and Scientific Information Database (SID) and it is currently equipped with the security system of books and closed-circuit camera systems.
Objectives and duties of the Central Library are as follows:
• Contributing to the university's research curriculum
• Facilitating research and investigation activities
• Helping the University in educational planning
• Collecting texts, including Persian and non-Persian printed books, periodicals, documents, audio-visual materials, etc.
• Supporting educational, research and cultural goals of the university by addressing the information needs of professors, students and other users
• Applying new methods of librarianship and advanced information technologies for optimal use of manpower, resources and facilities to expedite dissemination of information and to increase access rate of information and also to facilitate active provision of services
• Gathering a rich collection of scientific-specialized information sources and references in various fields and improving its quantitative and qualitative level in order to respond as much as possible to the increasing needs of the clients